Sunday, May 6, 2016
6:30 pm EST
Columbia University Visual Arts MFA candidates and recent alumni presented new video, performance, and installation-based artworks in response to the exhibition Unorthodox, which highlighted the importance of iconoclasm and art's key role in breaking rules and traditions. Numerous works in the exhibition examined social and political values, religion and humanism, trauma, and identity.
Participating Artists:
Joeun Aatchim
Allison Janae Hamilton
Ilana Harris-Babou
Patrice Aphrodite Helmar
Brooke Holloway
Juntae TeeJay Hwang
Tali Keren
Peter LaBier
Adam Liam Rose
Where (Lucy Hunter and R. Lyon)
Aphonic Ventriloquist (Artist/Works)
Video and Performance
A single-channel video projection with a myriad of moving images and a voice-over, which claims to be the voice of an artist and starts with the story of a ventriloquist who has some issues with his voice. The storyteller, the voice of an artist, illogically goes over her issues about the relationship between artist, artwork and audience in a vacillating manner, provoking queries about the authorship, disembodiment and the sincerity of the voice. Featuring Heather Foster, Carla Rhodes, and Cecil Sinclaire.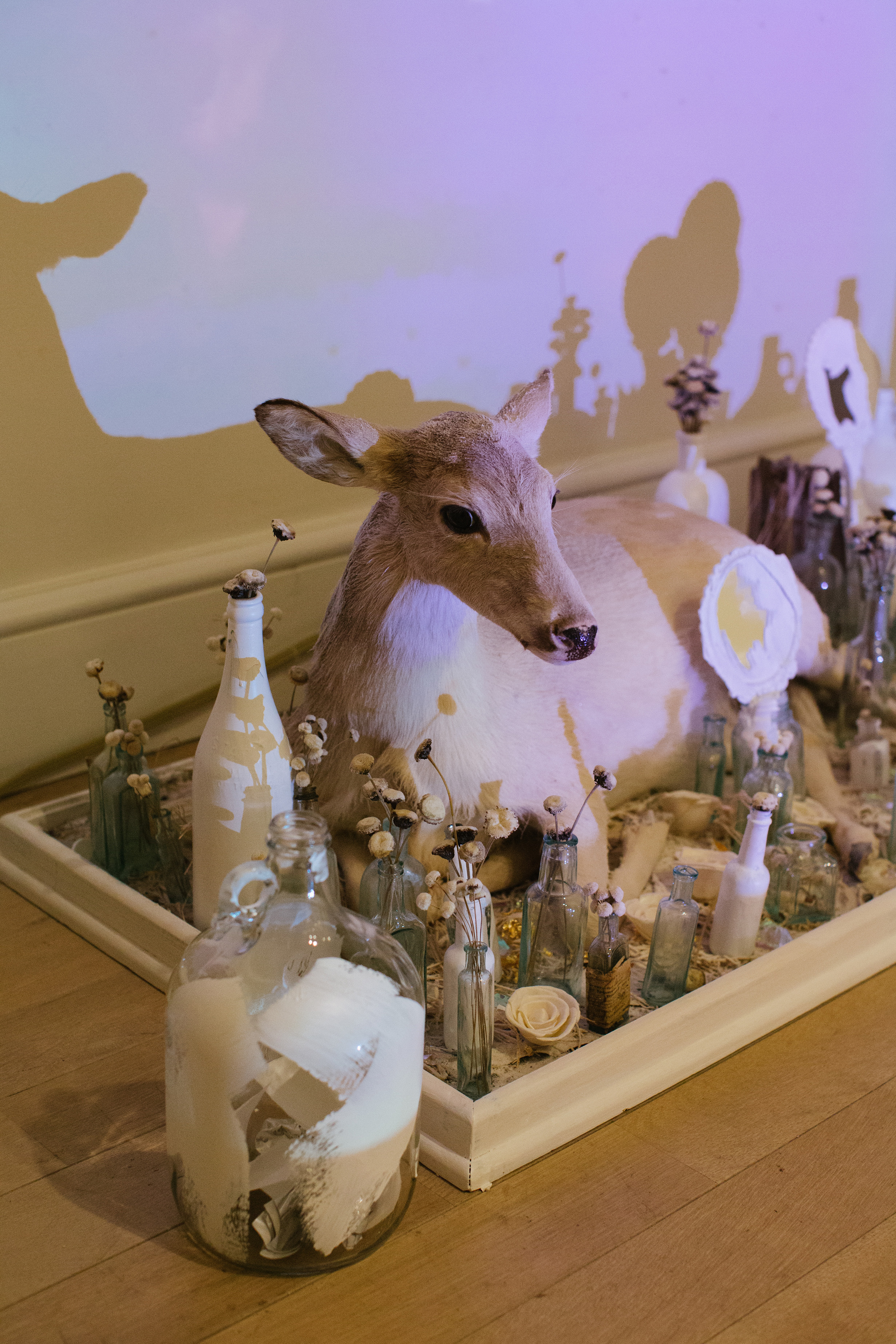 Wishing Well
Installation
An interactive installation positions the wishing well as a re-imagined altar space. Amid an assemblage of sundry artifacts—a full-sized doe, flowers, bones, glass, and other offerings—water becomes a portal through which communion between tangible and intangible worlds takes place. Viewers are invited to write down their own wishes and "toss them into the well" by placing them into glass bottles that reflect the surface of water, supplied by continual video projection.
Bagel Direct
Video
Bagel
Direct
mimics the current design of the museum's wayfinding screens, providing a fantasy-driven set of directions through the museum. It takes the image of a shimmering bagel and lox from Russ & Daughters as inspiration for a tragic, erotic, & slapstick food tutorial.
Forget-Me-Not
Video
Forget-Me-Not
is an unscripted video piece. Fourteen-year-old Elijah talks about his philosophy of life, and his dreams for the future. He lives in a trailer in Southeast Alaska with his grandmother. His mother lives in a shed built off the trailer, and his father is out of the picture.
Untitled Clip No. 9 (Graphic Reading Room)
Sound
A site-specific reading of Valerie Solanis'
Scum Manifesto
.
KOOEA DICTATOR IN PRISON
Performance
KOOEA dictator is reading part of his script from one of their manifestos. Voice-looping of live poetry reading and singing + video screening.
Promised Lands
Performance
A documentary performance exploring the shared liturgical connections between the United States and Israel.
House of Fame
Performance
This will be the performance of a song written in response to the diary of Vaslav Nijinsky. Instruments, voice, and dance/movement will be engaged by the performers to connect with feeling.
Paradise of Greenery (Route 443)
Installation
A Large archway welcomes viewers into the exhibition space. The form is taken from a mural on the Israeli Separation Barrier that dots highway 443 connecting Tel Aviv to Jerusalem and cuts directly through Palestinian cities.
Where (Lucy Hunter and R. Lyon)
Where Presents:
Performance
Art Historian Lucy Hunter (PhD candidate, Yale University) and Composer Raphael Amadeus Frankenstien (Juilliard, Vienna, Miami) join forces for a delightful rendition of recent research into mid-century management theory, "Laurie Spiegel's Unconventional Residency at Bell Labs."
Installation views of the exhibition Unorthodox, November 6, 2015-March 27, 2016. The Jewish Museum, NY. Photo by: David Heald; Event photography by Da Ping Luo.