Sunday, May 15, 2022
7 pm EST
Columbia University Visual Arts MFA candidates and recent alumni present new video, sound, and performance artworks in response to Jonas Mekas: The Camera Was Always Running. The exhibition surveys Mekas's 70-year career and includes 11 films presented in an immersive environment, photography, and previously unseen archival materials. Like many emigrés in the aftermath of World War II—as for so many across the globe today—his art was profoundly marked by his refugee experience, exploring the relationship between exile and creativity, loss, memory, and longing for a home.
Participating Artists:
Kaela Mei-Chee Chambers
Fadl Fakhouri
Linnéa Gad (with Will Epstein)
Elisheva Gavra (with Layla Klinger)
Jacq Groves
Erin Holland
Julia Jalowiec (with Josh Jalowiec)
Char Jeré and Meaghan Elyse Lueck
Sophie Kovel
John Thomas Levee
Alison Nguyen
Vivian Vivas (with Claire Gendler)
See the program brochure︎
Worksheet No. 156
Installation
As part of the ongoing project
Workbook for the Year of the Metal Rat
, this piece was created in response to Jonas Mekas's
As I Was Moving Ahead Occasionally I Saw Brief Glimpses of Beauty
. The worksheet, printed on transparency film and projected via a classroom overhead projector, draws from Chambers's own childhood in SoHo in the 1990s, and imagines the worksheet and video as question and answer.
A Banned Surveillance
Single-channel video
The surveillance of communities is executed through a depersonalized, intrusive lens.
A Banned Surveillance
assigns a human to this lens, aiming to explore responses to being watched by literal eyes. Participants in the video hail from the surveilled populations of president Donald Trump's list of banned countries. Restricted from immigrating to the United States, the work brings them here regardless. The eyes vary in scale, either being human-sized and placed at the height of the artist, hoping to emit intimacy on common ground, or enlarged to take on a Big Brother towering appearance.
Linnéa Gad
(with Will Epstein)
A Light Kept Promise
Super 8 film projected on silk, metal sculpted backdrop stand, live score
A moving image portrait in vignettes of the interior and exterior space off a corner studio in Columbia University Prentis Hall building. The footage, shot on super 8 film, captures the soon to be disappeared light as a tall building is about to be erected on the neighboring lot. Projected on silk and held up by a sculpted metal backdrop stand, the film is accompanied by a live soundtrack performed by composer Will Epstein.
Elisheva Gavra
(with Layla Klinger)
Ambiguous Loss
Multimedia installation combining projection mapped photography and electroluminescent lace, loop

The photos, taken by Elisheva Gavra while visiting the Hasidic community she grew up in, fit through the voids of the glowing lace in an attempt to re-frame and form new meaning. The electroluminescent lace, created by Layla Klinger, is an experiment in making a space that is made out of voids, capable of housing incomplete memories. In this collaboration, the artists are layering two forms that grow from existential transit and ambiguous loss.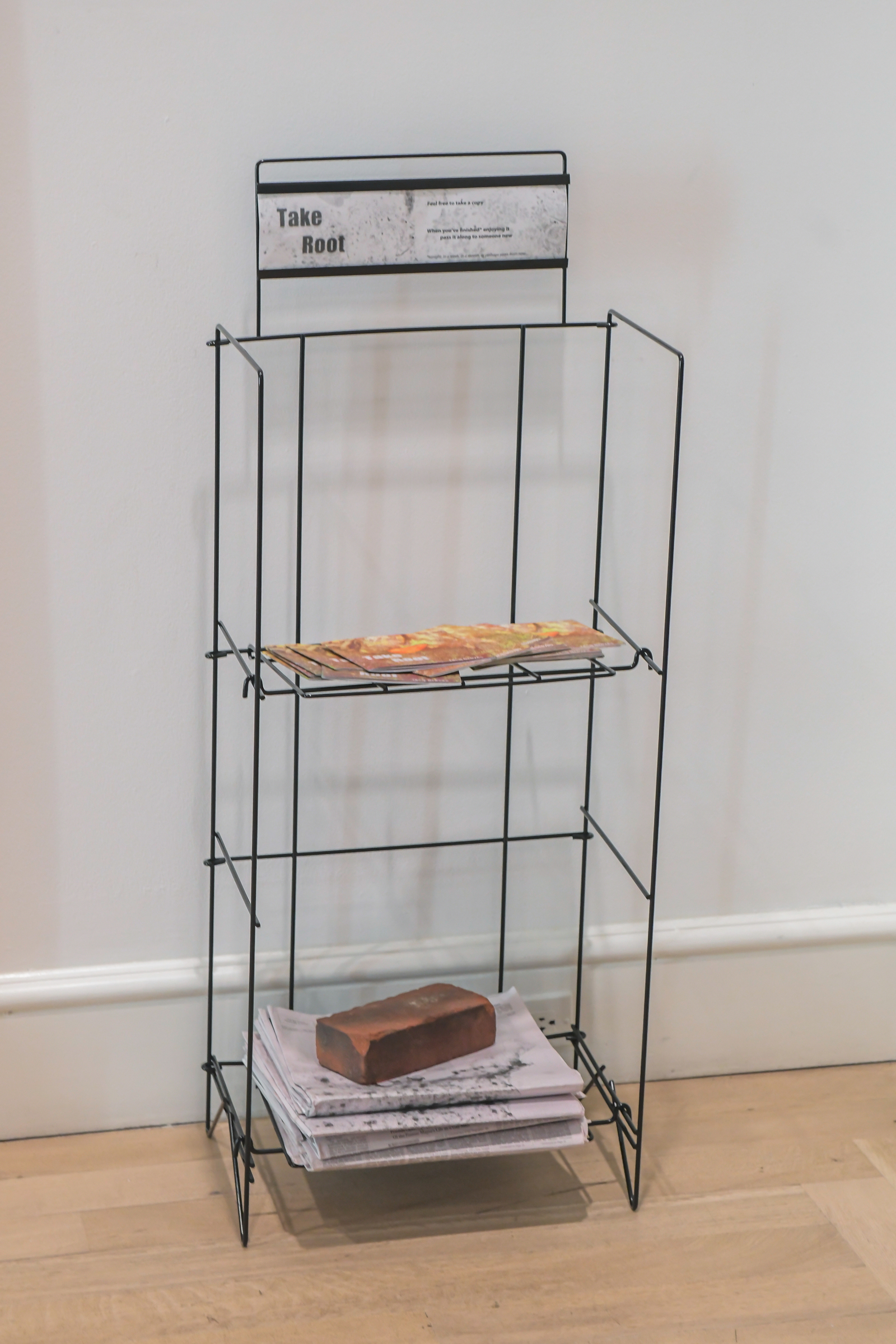 Take Root
Risograph
Inspired by Jonas Mekas's reflection "if I spend at least three days in one place I start to take root", this zine explores moments of growth despite constraint.
Take Root
uses Mekas's ethos as a lens to view the shifting of seasons in the city and includes a compilation of photographs. The zine acts as a montage of diaristic witnessing in this urban landscape from peeks inside overlooked construction zones to instances of nature breaching its bounds.
Read Take Root ︎
Two Weeks: All Enveloped in Silence
Performance and Video

A moment of reflection inspired by Jonas Mekas' reading of
Saint John of the Cross
in his last film,
Requiem
. With time for pause, Holland presents a video titled
Two Weeks
, filmed one week before and one week after the death of her mother.
Julia Jalowiec
(with Josh Jalowiec)
Seeking orbit in an unstable system is a lonely trip
Sculpture (iron, paint, paper, plaster, steel, wood, wax)
This work wants to say something about what loneliness looks like (which is to say anything, everything, and nothing at all) and how we cope with, conceal, and seek relief from the painful erasure of those that left or didn't want us anymore. The alienation of two figures is no more than a muffled hum in the background, where it wishes not to be noticed.
Char Jeré and Meaghan Elyse Lueck
WE, THE THEY
Video and Participatory Installation

This collaborative piece is composed of music-making cards and a gathering of home video footage. The artists were inspired by Mekas' early work,
Walden
(1969), with its themes of finding home and nature as someone who has been displaced. Playing off his ability to lift the unseen into the seen – they explore the unseen, unveiling unexpected edges of how we are all interconnected: now more than ever, Donna Haraway's notion of "becoming with the other" feels crucial if we are going to survive this planetary crisis together.
3450–3660 21st Street

Super 8 film to digital transfer

A covert, counterveillance film that looks back at Mark Zuckerberg and his unrelenting real estate acquisitions in San Francisco's Liberty Hill district. Since 2012, Zuckerberg has purchased four properties surrounding his mansion for "privacy" reasons.


The Brig
Site-specific audio

In 1964, Jonas Mekas filmed The Brig—a play written by Kenneth Brown and produced by the Living Theater on the Lower East Side—the night before the theater was shut down under pretenses of tax evasion. Mekas, Judith Malina, and Julian Beck alongside the actors and stage crew illegally snuck into the space to re-enact it for camera. Both the play and Mekas's "film play" had deep anti-Vietnam war sentiments, and now its audio has been revived for the Museum's out-of-use cafe space in the context of today's ongoing military conflicts.

108 Day Project
Referent to Mekas'
365 Day Project
, this piece is a collection of short films shot over the course of
Jonas Mekas: The Camera Was Always Running
. Beginning February 18, 2022, until June 5, 2022, a short film is made each day, for a total of 108 films. Each film is contained within a single 3.5" diskette, for an approximate duration of 60 seconds per day at a quality of 160p. The films read as diary entries for the artist over the course of the 108 day period.
Andra8 Diaries
Video
Reality and virtuality conflate in an AI's diary film set in an apartment in an orange virtual void.
Vivian Vivas
(with Claire Gendler)
Settle/resettle/settlE
Expanded Cinema
Blurring the personal with the fantastic, the ephemeral with the historical, the present with the past, one questions the boundaries of experience and the relationship between heritage, migration, death, and the afterlife. 16mm, Super 8, Cinegram, transferred to video and live performance.
With performers: Aundrea Anderson, Hailey Andrews, Hanna Andrews, Vena Cava, Anya Combs, Elizabeth Dashiell, Victoria Holiday, Allie Jessing, Marija Kovacevic, Warhola Pop, Devon Travis, Annie White. Voice: Claire Gendler.
Jonas Mekas: The Camera Was Always Running is organized by guest curator Kelly Taxter, with Kristina Parsons, Leon Levy Curatorial Assistant, the Jewish Museum.

The exhibition is made possible by The Andy Warhol Foundation for the Visual Arts, Art Mentor Foundation Lucerne, Lithuanian Council for Culture, the Lithuanian Foundation, a gift from the estate of Gaby and Curtis Hereld, Kazickas Family Foundation, Toby Devan Lewis, Paul Pincus, Lithuanian Culture Institute, the Martin and Rebecca Eisenberg Foundation, and other generous donors. Additional support is provided by the Melva Bucksbaum Fund for Contemporary Art and the Peter Jay Sharp Exhibition Fund. Closed captioning is made possible by the Lithuanian Film Centre. © Estate of Jonas Mekas.